We are back at it with 4 new Stackables for your enjoyment.  Check out our write-ups below for all the details!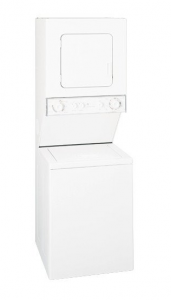 This space-saving washer/dryer is perfect for use in a small apartment or house.  The "SpaceMaker" gets its name by being the best at fitting in small spaces.  At 27 inches it can fit in a normal closet, or stay tucked away in the corner of a spare bedroom.  This is the classic unit that everyone thinks of when they think about stacked washer-dryers.
Features:
3 Wash Cycles – Perfect for delicates and permanent press
Multiple Wash-Rinse Temperatures – Hot water is great for getting out really tough stains (but remember our PRO TIP: Cold water saves nearly 90% of energy used during a wash cycle, and is usually perfectly fine for most washes).
Great Dimensions – 27 inches is perfect for most home applications
The Bottom Line:
You'll save about $400 compared to most separate units
This classic stacked-unit makes perfect sense for a home that handles smaller loads of laundry.  Keeping the washer and dryer in one unit saves space so you can fit much more into your laundry room, and this opens up a ton of other options for you.
Free Shipping!
Ok, we are veering away from our usual subject matter here, as this unit is not technically stacked, but instead a Washer/Dryer Combo, which does both the washing and dryer cycles in the same machine.
The Future Is Now!
I can't believe it's taken mankind this long to invent the combination washer/dryer, but here we are, it as finally arrived.
The unit is a bit "chubbier" then other, coming in at 34 inches wide, 31 inches tall, and 42 inches deep.  You might have trouble fitting this one into a closet, but that shouldn't matter since it's only one unit you need to fit into the laundry room.
Weighing in at 240 pounds, it's also about as heavy as any other unit, so no worries there.
So far it's rated 4.1 out of 5 stars, which is definitely above average.
Also, this unit comes with free shipping so why not take them up on that?  Shipping is a huge concern with big home appliances, so I try to take advantage of deals whenever I can.
Free Shipping!

These are the cream of the crop.  While slightly larger than most units (coming in at 350 pounds) they make up for it with increased capacity (at 4.2 cubic ft) and additional features, such as the sanitizing cycle and allergen cycles.  These bad-boys can handle very large loads, so if you have the room for them, it is worth the extra weight.
These can be stacked or un-stacked, perfect for moving to a new place or rearranging your laundry room.
The allergen cycles come in extremely handy if you have pet or dust allergies, as well as those pesky seasonal allergies (pollen, etc).
The sanitize cycle is perfect for squashing the spread of germs (especially useful during cold/flu season).
Coming with free shipping and a very competitive price, as well as high reviews from current customers, make this a sure thing if it fits your needs.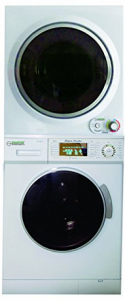 These modular units can be stacked or non-stacked, which makes them a good choice when redesigning your laundry room or moving to a new place.  These higher capacity washers are relatively large, with a form factor of 43.7 in by 47.1 in by 59.9 inches.
These standalone units are powered by electricity, which makes for a good choice if you have had trouble routing a gas line to your laundry room and instead want to go fully electric.  The voltage is standard 120V which is standard household outlets (no need for the more powerful 220V outlets).
Check it out!
While larger, these units are lighter, at only ~200 pounds, which makes moving on your own much easier.
The price is very competitive compared to comparable units out there.  Certainly a steal if it fits your form factor needs.